Not only is football season here, the fall real estate market is here and buzzing. Another thing that's buzzing is the word "recession".
Let's talk about the "R Word" – Recession.
When will the next U.S. recession begin?
67% of all combined respondents in four major surveys1 this year predicted that the next recession could occur between now and the end of 2020. However, according to the recent Pulsenomics Survey of Analysts, the housing market will not be the main cause of the recession. The top three causes according to the same survey were trade policy, stock market correction and geopolitical crisis.
Does a recession equal a housing crisis?
Most people associate a recession with a housing crisis because of the housing crash in 2008. However, it's important to note that a recession does not necessarily equal a housing crisis.
We are currently in the longest economic recovery in American history. However, the recovery cannot continue forever. Recoveries end when there's an economic slowdown (i.e. the GDP slips in two or more successive quarters). This is also known as a recession.
When we look at the past five recessions, home prices increased in three of the five recessions. The most impactful recession in 2008 was triggered mainly by the housing crisis fueled by risky loan programs. Again, a recession does not necessarily mean a housing crisis.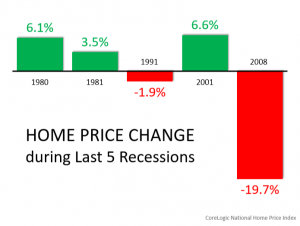 Bottom Line:
Home prices are not depreciating, rather they are appreciating at a slower rate. According to Skylar Olsen, Zillow director of economic research, the "…housing slowdown is in some ways a return to balance that will help increase the resiliency of the housing market when the next recession does arrive." (Source: Housing Wire).
If you have a low interest rate, you should be able to weather a recession with the affordable monthly mortgage payments.
Most experts suggest saving enough money in your emergency fund to cover at least 3 to 6 months' worth of living expenses in case you lose the ability to make mortgage payments during a recession.
In any market, people go through different stages of life and will need to upsize or downsize in every economy. If you have questions or concerns about what effects the current and future markets will have on your real estate, let's talk!
Enjoy the fall season and we'll talk to you soon!
1Wall Street Journal, Duke University, National Association of Business Economists and Pulsenomics
---
The information contained, and the opinions expressed, in this article are not intended to be construed as investment advice. The Royster Hearth Group does not guarantee or warrant the accuracy or completeness of the information or opinions contained herein. Nothing herein should be construed as investment advice. You should always conduct your own research and due diligence and obtain professional advice before making any investment decision. The Royster Hearth Group will not be liable for any loss or damage caused by your reliance on the information or opinions contained herein. 
---
THE ROYSTER HEARTH GROUP
HOME is more than a place with a roof over your head. It is a place of comfort, love, warmth, rest and security – "HEARTH". We want to help you reach that place. Hence, our mission at The Royster Hearth Group is simple – Serve Our Neighbors, Not Ourselves.  We work hard to serve you in every aspect of the home-selling and -buying process.